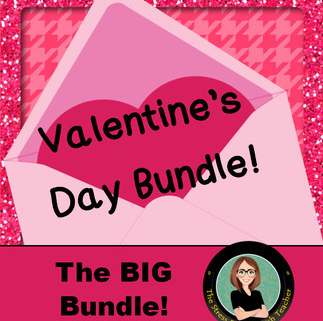 Spanish Valentine's Day Lessons!! El Dia de San Valentin, El Dia de los Enamorados!
Valentine's Day is just around the corner!!
Come check out La Profesora Frida's BIG Bundle of Valentine's Day Activities for your Spanish classes!
There are a bunch of fun activities in this packet that you could use all week!  Choose one or two to supplement your lessons each day leading up to Valentine's Day, or set up Dia de San Valentin stations and have students work through the activities at their own pace.
They're not only fun for you to use with your students, but are also great to have on hand for your Fast Finishers during the month of February, and are perfect emergency sub plans because they are self contained lessons.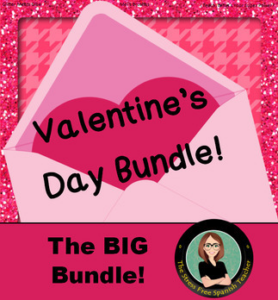 Now contains the following 9 separate packets BUNDLED together!
I'm really excited to offer this Valentine's Day BUNDLE at a big discount to you this season! I hope you love these activities!
The following NINE packets are included in this BUNDLE:
1. Valentine's Day Cootie Catcher / Comecocos
2. M.A.S.H. MASH, Spanish Future Tense, Simple Future Tense
3. Spanish Class Communicative Activity Citas Rapidas / Speed Dating
4. Stay on Task Strips, Valentine's Edition (Not available for purchase separately!)
5. Spanish Valentine's Day GLYPH, Reading Comprehension
6. Valentine's Day Mystery Picture Sample! Full packet found here
7. Spanish Valentine's Day Posters / February Bulletin Board Elements
8. Spanish Valentine's Day Vocabulary Lists / Sopa De Letras / Dictionary Activities
9. Blank Word Search Templates> so your students can create their own Sopa de Letras with their new vocabulary! 
What some people have to say about this packet:
"Lots of stuff here! I was able to adapt for multiple grade levels. Definitely useful for older students!" ~ Cassandra
"Me encanta la variedad de actividades en este paquete."  ~Ginger
Don't have much time for celebrating El Dia de los Enamorados with your students?  Check out this fun communicative activity, called "Speed Dating!"
This activity is a BLAST!!  It is an awesome say to get your kids communicating 100% in Spanish in short bursts.  What you do is set up your class like you're hosting a "speed dating" session, haha!  My students often choose to take on a persona for this game– Pretending to be someone famous! The responses they come up with are hilarious! 🙂
"I really LOVED the speed dating activity! My students were so invested. Some of the bachelors/bachelorettes were: Hitler, Frankenstein, Miley Cyrus, The Easter Bunny, etc. They did great!"  ~Christine
Having students take on a persona makes things more comfortable – we want our kids to have fun, right??  Well, they DO when they're pretending to be Cinderella or Bruno Mars instead of themselves!
"Students were talking about this months after it happened. Before they knew what was going on, I had them come up with a celebrity that they wanted to be for the whole period. So, instead of dating each other, they were dating the celebrities. I think it made it easier for them to participate. Thanks for this awesome activity! So great!"  ~Perla A.
In the lesson packet there are easy to understand instructions as well as a "citas rapidas" tracking sheet for your kids.  It helps them remember questions they may want to ask.
The kids also fill out a questionnaire at the end, a good way to wrap up the activity.
So many fun choices for Valentine's Day!!  I hope you have fun with your students this week!  😀
If you do happen to use any of my lessons this week, I'd love to hear how they work for you!
Enjoy!
https://thestressfreespanishteacher.com/wp-content/uploads/2020/05/SpanishValentinesDay.png
348
323
admin
https://thestressfreespanishteacher.com/wp-content/uploads/2018/08/Eyes-and-Glasses-300x149.png
admin
2015-02-08 18:22:00
2020-05-31 21:32:56
Spanish Valentine's Day Lessons!! El Dia de San Valentin, El Dia de los Enamorados!