Grab your free WEEK of Spanish lessons including a Spanish Comprehensible Input Reading about PAELLA! 
🥘
¡Hola Profe!
Have you been searching for COMPREHENSIBLE INPUT resources, but not sure where to start or how to implement them? I think you will 
this free WEEK of Spanish lessons! I've included step-by-step lesson plan examples for Spanish teachers with tons of ideas on how to use all of the printables and supplements included in this FREE download.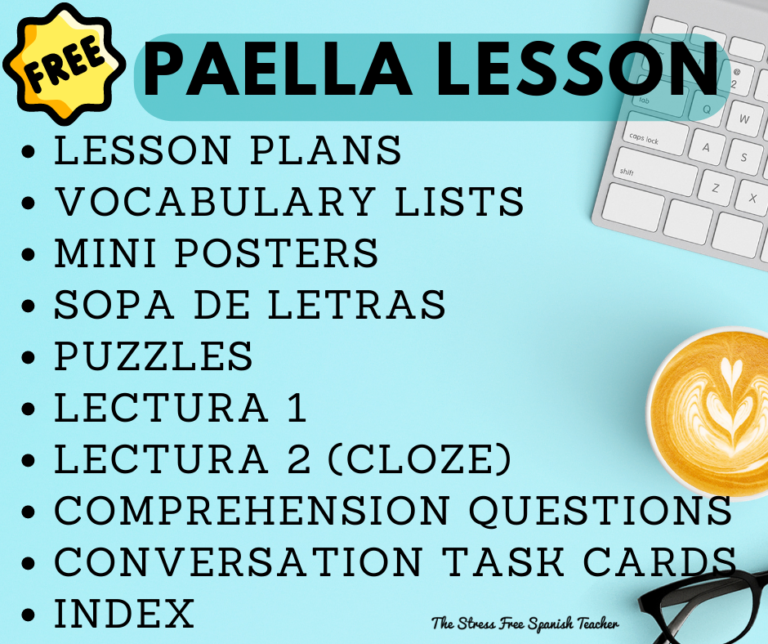 DECIDE WHAT WORKS FOR YOU
A lot of supplements are included with this free download, but that doesn't mean you have to use them all! Decide what will work for you and your Spanish students. If you're short on time, choose the 1 day lesson plan example. Or, if you don't feel like you have any time at all, save this as an emergency substitute lesson for your Spanish classes.
EVERYTHING YOU NEED IS INCLUDED
Everything you will need is included! You can guide your Spanish students through learning the vocabulary & set them up for success by pre-teaching the Spanish vocabulary that is most important to know to understand the reading. Spanish word searches and Spanish vocabulary matching puzzles are included as well as a student vocabulary mini poster. There are 2 versions of the reading in Spanish, and both are suitable for Spanish 1 (with teacher led support) and up!
READING, WRITING, SPEAKING
Students practice reading comprehension with the lectura about PAELLA and the Spanish comprehension questions provided. Students also practice writing as they answer the questions. Students practice reading & speaking with the conversation task cards included. 
EXTENSION ACTIVITIES
After completing the lesson, you can choose to add extension activities of your own! A few examples:
Watch a YouTube video about PAELLA
Analyze an

infographi

c (Find Spanish class Infographics here!) about PAELLA
Students could create their own infographic about PAELLA
Students could draw a short story about cooking PAELLA and illustrate it.
Students could choose another food from Spain to research and present about.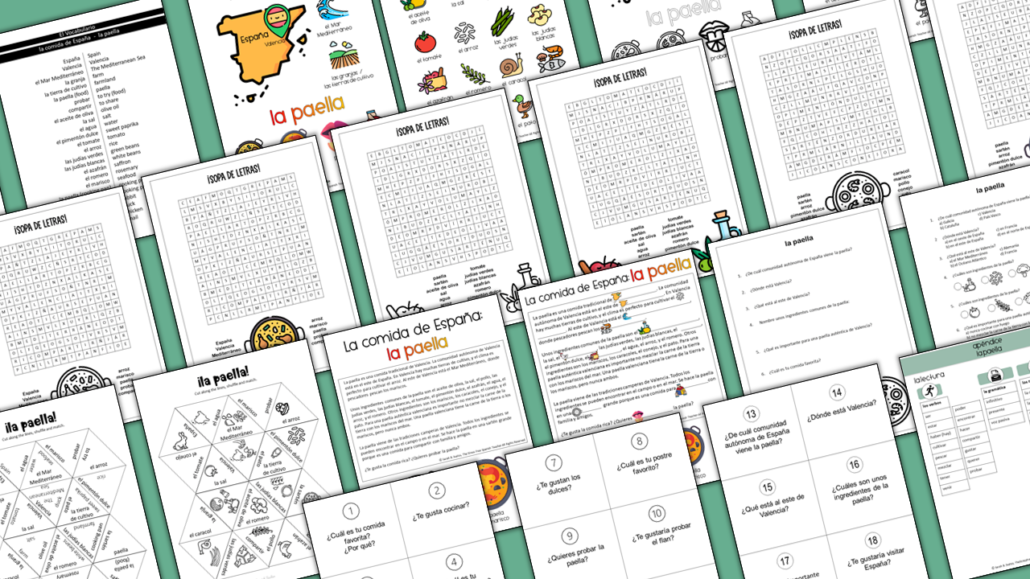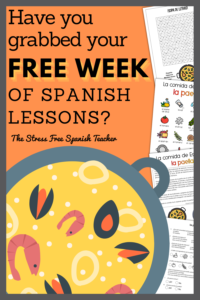 LOOKING FOR EVEN MORE COMPREHENSIBLE READING RESOURCES FOR SPANISH 1, 2, & UP? Check these out!
Interested in a FREE GAME to practice LA HORA with your Spanish students? Check out the link below! 
https://thestressfreespanishteacher.com/wp-content/uploads/2022/09/free-paella-spanish-lesson.png
788
940
admin
https://thestressfreespanishteacher.com/wp-content/uploads/2018/08/Eyes-and-Glasses-300x149.png
admin
2022-09-17 12:00:28
2022-09-24 12:14:14
Free WEEK of Spanish Lessons