Spanish Class, Engaged Communication, Café y Conversación
A guest blog post from teacher Kim Huegerich.  When I read about Kim's Café y Conversación idea in a FB group, I knew I needed to reach out and ask her to share this idea with my readers!
Read about Kim's awesome whole class communicative activity and learn how you can implement it in your world language classroom!
Thank you, Kim for being willing to write a guest blog post and share your fantastic teaching ideas with us!
Café y conversación
by guest blogger Kim Huegerich
When reflecting on our own personal language studies, what is the number one activity that helped us learn the most? Of course: speaking and living in the native environment. So, isn't it logical that we try to bring that to our students who can't or won't travel abroad? or at minimum simulate this environment?
Why?
Why should you implement a "Café y Conversación" day in your classes?
I find random conversation one way to help hook students into learning.
When we have authentic conversation about topics that students want to talk about, they ask better questions and learn at a higher level.
This is why it is so important to put students in this situation. When they will need to use the skills we are teaching them, it will likely be speaking first. Culturally, Hispanics love to talk; they will sit around at lunch for a couple hours and just socialize, they will meet someone new and talk for an extended amount of time. This creates a perfect bonding time for the students to create their own culture and safe place in class.
When?
When can you work a "Café y Conversación" day into your schedule?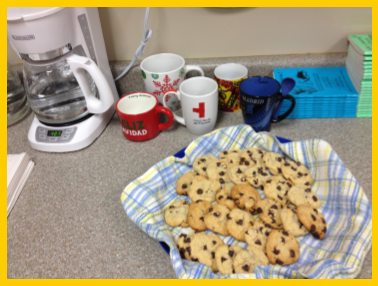 Living in the midwest, we see days that Mother Nature wreaks havoc on our roads so school is delayed or cancelled. These are obviously not planned so all of a sudden our schedule is interrupted and lesson plans need to be changed. This is when I call a "Día de Chocolate".
Preparation
What materials will you need in your classroom to be ready?
My room is always supplied with cocoa (complete with marshmallows), cappuccino, tea, and cider. There is also a coffee pot that has only ever seen water. I replenish the supplies as needed and on our Días de Chocolate, I will bring in cookies, cinnamon rolls, bars, or some other treat as well. Often times students will bring in treats. Due to many schools having treat policies, the students usually bring in prepackaged treats, but I accept any treats anyone wants to make. This year I do have a couple students who are on a gluten-free diet so I prepare an alternative. The students choose to eat/drink; I never force or require anything.
Notification
How do you notify students to be ready for a conversation day?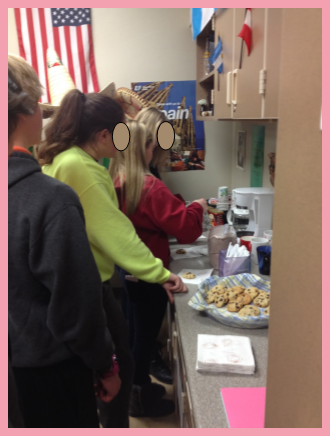 I am also an avid weather watcher so I know days ahead if there is weather coming. I will warn students if it's obvious that there may be a late start. "Yeah, guys I hear tomorrow there is bad weather coming. Remember if we have a late start, it's a Hot Chocolate Day! This means you have to bring a mug and be willing to chat." When the call is made from the superintendent and/or we see it on TV, I send out a message to the students that it is officially a "Día de Chocolate".
Hot Cocoa Day
What can I expect from a conversation day?
Most students do indeed bring their mug, but I do have a small selection of mugs for students to use as long as they wash it and return it before the end of class. Upon entering, I remind them that it's Hot Cocoa Day so they go to the counter, sanitize their hands, and prepare their beverage and snack. The desks are arranged in a circle to be more conducive to conversation. I will start the conversation off with small talk about what they did this morning with their extra two hours, how the drive in was, what they saw (cars in the ditch, etc), and other particular details of their morning. Once you get them talking, they will bring up other topics and the conversation continues throughout the class period. Some groups are more chatty than others, but I have never had a group that would just sit there and say nothing. The culture is created on day one that the expectation is 100% Spanish. They know that in order to improve their skills, they need to speak the language.
Reflection
How do students feel about the Hot Cocoa day?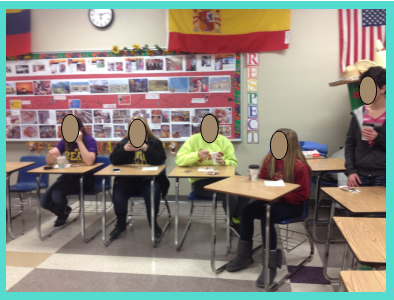 In an end-of-the-course evaluation, these were a handful of the comments I received from students about what they enjoyed the most about the class.
"Keep the same open environment. I was never embarrassed to say an announcement or talk out loud in class because I knew that she would help me if I needed it."
"She should keep having hot chocolate days and bringing in treats!"
"To apply food into the class it makes learning delicious."
"I liked that your teaching style was less serious but still made us get the work done that we needed to so that mind set was nice."
"When we got in a circle and just talked in Spanish for the whole day."
"I can't think of a favorite because I liked almost everything we did in this class. I enjoyed listening to the songs, reading the books, learning tons of new vocab and eating chocolate and having fun."
"The locked box game or having hot chocolate days and talking."
Wow, right??  What an amazing teaching concept, beautifully orchestrated into a normal teaching routine so students know what to expect and feel comfortable and confident speaking in the Target Language!
Thank you again, Kim for being willing to share this great teaching strategy for foreign language teachers!  You can read Kim's blog post on her blog, The Active Learner.
https://thestressfreespanishteacher.com/wp-content/uploads/2017/07/Pin1.png
655
613
admin
https://thestressfreespanishteacher.com/wp-content/uploads/2018/08/Eyes-and-Glasses-300x149.png
admin
2016-01-18 07:23:41
2019-09-04 10:48:01
Spanish Class, Engaged Communication, Café y Conversación