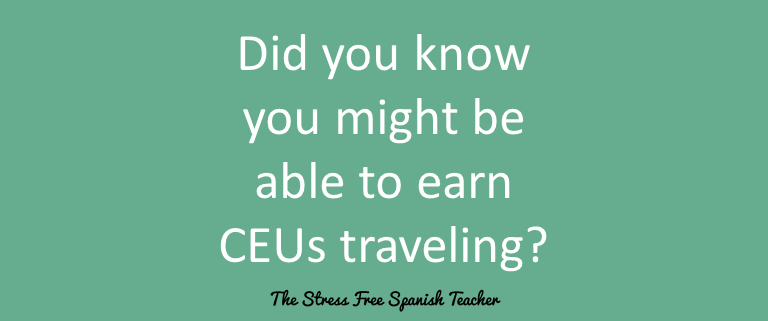 If you've been following me on Facebook, you'll have seen a few photos from my summer vacation!
(I've been doing giveaways on FB if you can guess where I took certain pictures!!  Visit my FB page for your chance to win TpT gift codes!)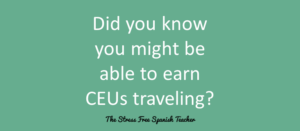 My husband planned an amazing trip through France (to Chartres and through Normandy) and then through Spain (we made a big circle through cities in Southern Spain).  It was an amazing trip because my parents were able to join us!  It was their first time in France & Spain!  Such a great opportunity to show them places I love to visit!
As a Spanish teacher, being able to travel through Spain and use the language and learn more about the culture is an invaluable experience that enhances our teaching.  Wouldn't you agree?
La Mezquita, Cordoba, Spain
Did you know you might be able to earn CEUs (Continuing Education Units) towards relicensure through travel experiences??
(Check with your state.  The Minnesota Department of Education allows units to be claimed for related travel.)
I only wish we could earn the actual number of hours we spend in a foreign country towards relicensure…  (Insert sad face emoji… lol.)  I believe I can claim between 10-20 hours total per license period.  Considering I spent at least 20 hours just touring Spanish cathedrals this summer… And at least another 20 inside museums learning about the art history of Spain… But…
There really isn't a more enjoyable way to earn CEUs!

  Ronda, Spain
 Toledo, Spain
Merida, Spain
https://thestressfreespanishteacher.com/wp-content/uploads/2014/08/CEUsTraveling.png
336
768
admin
https://thestressfreespanishteacher.com/wp-content/uploads/2018/08/Eyes-and-Glasses-300x149.png
admin
2014-08-16 10:56:00
2020-09-03 21:07:07
The Best Way to Earn CEUs! Traveling in Spain!