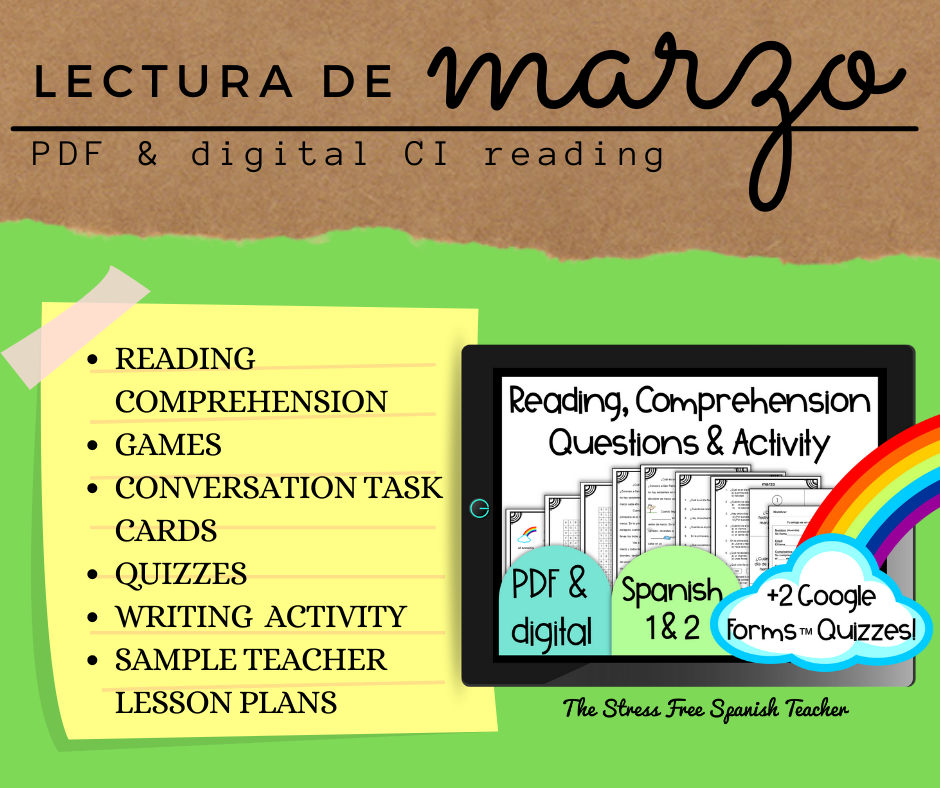 Do you❤️using Comprehensible input readings with your Spanish students to help them acquire new vocabulary & practice their reading comprehension skills?
The➡️LECTURA DE MARZO has just been updated!🌈 And it is PERFECT for exposing your students to targeted vocabulary for the month of MARCH!🍀
PLUS Spanish Teacher Lesson Plans are also included for up to 4 days of stress-free lessons!🧠
preteach vocabulary with print and digital GAMES included!
2 versions of a Spanish CI Reading
2 versions of comprehension questions
2 Google Forms(tm) Quizzes
18 conversation task cards
student follow up writing activity
teacher background slides too!
NEW!
a pre-teaching activity word search (new!)
18 conversation task cards! (new!)
3 pages of lesson plan instructions! (new!)
HAVE YOU TRIED MY MONTHLY SPANISH CI READINGS? 
This set of Spanish resources helps familiarize students with some important vocabulary words to know for El Día de San Patricio! Spanish students acquire new vocabulary for the month of MARZO, learning about: St. Patrick's Day, Leprechauns, Spring, Dates, Weather, and Activities to do in the Spring. (El Día de San Patricio, Los Duendes, La Primavera, El Tiempo, La Fecha, y Las Actividades de La Primavera)
The best part? 
This has everything you need for an entire 
WEEK 
of lessons! Lesson plans are included for 3-5 days of lessons.
You can completely tailor these lessons to fit YOUR classroom needs too! You could use just the vocabulary games, or just the reading, or just the writing activity for a 1 day lesson too, or sprinkle the activities throughout the whole month of MARCH!😉
The activities in this set are also perfect for:
class starters / closers
emergency sub plans for March
partner work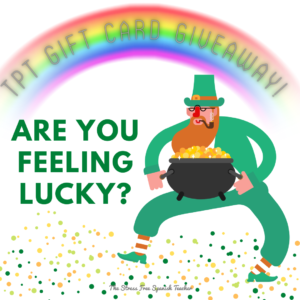 Hey there, Spanish teacher friends! I want to give back to our community again this month with a 🌈 $25 TpT gift card giveaway! 🍀 There are LOTS of ways to enter below! I will be adding new ways to enter during the week, and some entries you can claim once a day!
Giveaway rules:
Giveaway runs from March 3rd, to midnight on March 17th, 2022. 
Open to World Language Teachers worldwide. 
Giveaway not sponsored by nor endorsed by Instagram, Facebook, or TpT.
YOU MIGHT ALSO BE INTERESTED IN MY FULL YEAR OF SPANISH CI READINGS:
12 months of done for you Spanish lessons to help your Spanish students gain confidence in their reading abilities!
These are perfect for end of year Spanish 1 and all Spanish 2 students and above!
Just CLICK HERE to visit the BIG BUNDLE for the whole YEAR!