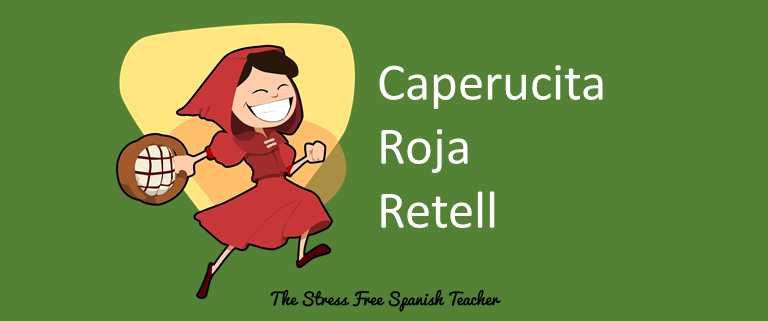 Caperucita Roja, Little Red Riding Hood reading comprehension practice Spanish lesson
Looking for new resources for Reading Comprehension lessons for your Spanish 1 students?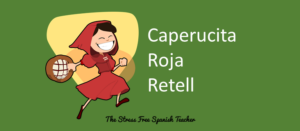 One fun way is to use well-known children's stories.  Little Red Riding Hood, or Caperucita Roja is a story that all of my students are familiar with, so I created a reading comprehension lesson with a twist….
All of the characters are the same: Caperucita Roja, La Abuelita, El Lobo.  And the storyline is basically the same:  Little Red is still going to visit her Grandma and meet The Wolf in the woods.
BUT, there are a few twists to the story: Little Red isn't scared of anything, her father works at a zoo, so she knows a thing or two about animals, it's Grandma's birthday (she's not a sick, elderly kind of grandma), and Little Red actually saves the Wolf!
The twist in the story is thrown in specifically to make sure your students are reading and comprehending the story.  The story is 2 pages long, with some tricky words translated at the bottom of each page (to help your students read more smoothly, you may want your kids to use  Spanish/English dictionaries too).  Then there is 1 page of reading comprehension questions.
Lots of cognates are thrown to help along the way.  It's a fun reading!  And students gain confidence in their abilities when they realize how much they can understand.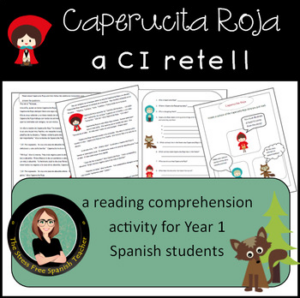 There is also a page of instructions for a cartoon-retelling project of the story your students have just read.  🙂  This is also an awesome activity to have on hand for emergency substitute plans.  The lesson could also be used for beginner Spanish 2 students.
Enjoy!
https://thestressfreespanishteacher.com/wp-content/uploads/2014/10/Caperucita-Roja-1.png
336
768
admin
https://thestressfreespanishteacher.com/wp-content/uploads/2018/08/Eyes-and-Glasses-300x149.png
admin
2014-10-12 16:49:00
2020-06-10 11:11:50
Caperucita Roja, Little Red Riding Hood reading comprehension practice Spanish lesson