"Take What You Need" posters have become a phenomenon of happiness and goodwill and an expression of personal artistic nature.  Please visit my Pinterest board titled "Take What You Need Posters" to see more lovely examples and links to articles about this illustration of human kindness.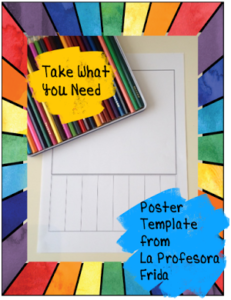 "Take what you need" posters are set up like  "for sale" flyers that you might see tacked to a bulletin board at a grocery store or on a college campus.  Instead of contact information on the tabs across the bottom, there are pieces of hope to help bring a smile to someone's face.
I've created a poster template and example posters for you to use with your students!  (Click here to visit my TeachersPayTeachers store!)
Back to School time is the perfect time for your students to support one another and creating a "Take What You Need" poster and hanging them up around the school is one small way they could do that.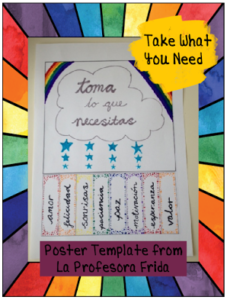 And of course, because I'm a Spanish teacher, I immediately saw the potential to use this as a Spanish class lesson.  Here is my Spanish version of this poster:
Mine says "Toma lo que necesitas," and the tags say "amor, felicidad, sonrisas, paciencia, paz, motivacion, esperanza" and "valor."
I also created an English version, in a fall color scheme: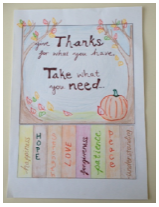 Please share the versions you and your students create!  I would love to display them here on my blog!
You can find this lesson and template in my store by clicking HERE.
Enjoy!
LaProfesoraFrida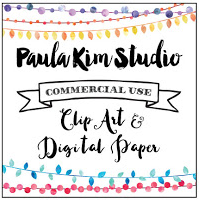 http://thestressfreespanishteacher.com/wp-content/uploads/2017/07/Take-what-you-need-posters-2.png
393
298
admin
http://thestressfreespanishteacher.com/wp-content/uploads/2018/08/Eyes-and-Glasses-300x149.png
admin
2015-07-27 16:53:00
2017-07-31 15:32:43
Take What You Need Posters, Toma Lo Que Necesitas, Spanish lesson