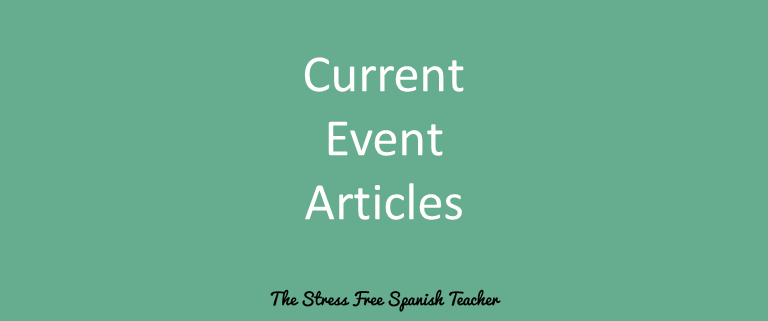 I think it is SO IMPORTANT for students to know what is happening not only in their own communities, but AROUND THE WORLD. And… ON A REGULAR BASIS! This FREE Current Event Article lesson is one way to supplement what you're already teaching, and help students research what is happening in the world.  Not just for a day or even just a week, but dare I say for an entire semester??  Or, GASP, an entire school YEAR??
Current Event Articles are a fantastic way for students to take charge of their own education, learn to use multiple resources, and to research a place in the world that they find interesting.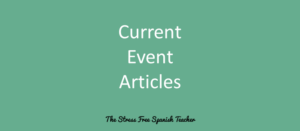 Depending on your classroom needs, this could be a weekly, monthly, semester or year long project for any class!  This activity is perfectly suited for a government class, world history, social studies or foreign language classes. But I can see this research being done in so many different classes. It would be a wonderful activity for a speech/public speaking class too.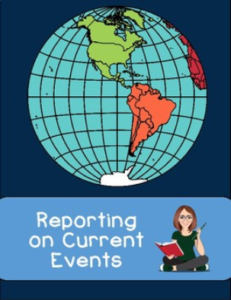 I wrote this document for use in my Spanish classes, but as you can see, it can easily be changed for any foreign language classroom, social studies, or government class. And being the creative teacher that YOU are, I'm sure you can think of many more applications!
My students are having a blast this semester with this activity. They know that every Thursday their Current Event Article is due, and they get to share the articles they found for the week with their classmates.
I also offer a few points of extra credit for students who share their articles in front of the class– You wouldn't believe how many students clamber to share their articles! And they find the most interesting news!!  (Have you heard about the lady in Spain who `bought´ the SUN and wants to CHARGE every inhabitant of Earth for using it??  Can´t make this stuff up!  Check it out!)
My students are not only keeping themselves and their classmates up to date on world news, they're helping to keep ME informed as well!
This is a FREE lesson you can download in my TeachersPayTeachers store!  I really hope that you will also find it useful.  Positive feedback MAKES MY DAY ~~ If you have a wonderful experience or anecdote about using this product in your class, please share it here!!
Thank you!
http://thestressfreespanishteacher.com/wp-content/uploads/2014/09/CurrentEvent.png
336
768
admin
http://thestressfreespanishteacher.com/wp-content/uploads/2018/08/Eyes-and-Glasses-300x149.png
admin
2014-09-19 17:47:00
2020-06-10 11:43:30
FREE lesson for Spanish classes! But also great for Culture, Social Studies, History (and other Foreign Languages!)!