Have you applied Differentiated Instruction lessons in your classes yet?  Differentiated Instruction is a great solution to teach the multiple levels of understanding that take place within each mix of students you have throughout the day.
One way to add Differentiated Instruction to your Spanish lessons is to set up "Stations" for a particular topic or unit and allow students to work through the activities at their own pace.
In an effort to add student options and help them learn responsibility for their own learning, I've created several units that can be used as Differentiated Instruction Stations.
How do Stations work?
Stations are physical learning locations set up in your classroom.  Each location focuses on a specific area (or modality) of learning.
·
Choose locations around the classroom to place each learning station.

 
·
Choose 1 teaching table.

 

This is where you will sit, students will know they can approach you for individual instruction (any questions they might have) when you're at this table.

 

Students can also approach you here to check off their work so they can move on to the next task.
·
Group leftover desks in clusters around the classroom.

 

Students will be able to go to any cluster to do their work.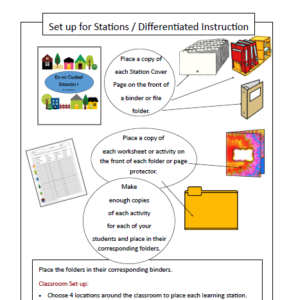 Students are given a checklist of activities that they are required to do and move from station to station to complete each task. 
Why does this work so well??  Because students can take charge of their own learning!
Here's what one teacher had to say about the "Around Town Differentiated Instruction Packet:"
"So many great activities to choose from! I love the flexibility of using these for stations, classwork, homework, etc. Nicely done! "
The Stations for the Around Town packet are divided into 4 stations:
1.  Vocabulario – students learn the new vocabulary and do a variety of practice activities to familiarize themselves with their new city/town words and to help them memorize the new vocabulary.
Spelling and Sentence Structure
Vocabulary Flashcards and Activities
Vocabulary Practice worksheet
Mi Ciudad questions worksheet
1.  Preposiciones – students practice with prepositions.  There are even 2 free PowerPoint presentations included in this section of the packet!
Communicative Activity—Giving Directions
Firma, Por Favor (Another Communicative Activity!  Whole class or partner pairs!)
 3.  Reading & Comprehension – students practice their understanding by reading several texts and answering questions about what they have read.  Students also can print off a map of their own city and practice giving real life instructions!
Reading Activity 1, Following Directions
Reading Activity 2, Answering Questions about mi ciudad
Writing Activity, Option 1– Students' own city, giving instructions
Writing Activity, Option 2– Giving instructions in a Spanish town
4.  Project Based Assessment – students choose a project to demonstrate their understanding of what they have learned.
El Secreto de mi Tesoro—Pirate City Map Project
La Joya de la Ciudad—City Planner Project
Un Recorrido con Godzila—Godzilla's Invasion Rehearsal
Una Fiesta—Party Invitation with Directions
I'm so pleased that teachers across the U.S. are enjoying these Stations activities and letting me know!
Here's what another teacher had to say about this packet:
"Very high quality visuals – I love the station strategy for differentiating. I am just starting to use this – and as far as I can tell now – this bundle will be one that I return to each quarter. Thank you! "
And just one more.  😉
""
I hope you'll head over to my TeachersPayTeachers store and take a look for yourself!  Make sure to check out the free preview and take a look at everything included in this Stations packet.  And if you do purchase and use this packet, I would LOVE to know how the activities worked out for you with your students!!
Enjoy!
http://thestressfreespanishteacher.com/wp-content/uploads/2018/08/Eyes-and-Glasses-300x149.png
0
0
admin
http://thestressfreespanishteacher.com/wp-content/uploads/2018/08/Eyes-and-Glasses-300x149.png
admin
2014-10-17 13:04:00
2019-09-04 11:07:55
Differentiated Instruction in your Spanish classes, City & Housing Unit: Around Town